Farewell from Pula
It's eight o'clock in the morning, and I'm standing on the quay wall off the Admiralty. On the one hand a few ships, on the other hand, the morning traffic rolls. At the bakery with the heart in the name, which undoubtedly has international standard, I got a breakfast "to go". While having a leisurely breakfast in the car now, my thoughts wander back to the four weeks I spent in Pula. It was a good time.  There are many attractions in Pula, here: the amphitheater first of all that impressed me a lot. It has a circumference of 750 meters! In order to procure the stones of the outer facade alone, one would need 1000 trucks, each of which can transport 10 tons. In Germany there is one truck of this size per thousand inhabitants. So, all trucks of Istria would certainly not be enough. 7 football fields would have space in the ellipse of stone ring. In ancient times, it had a capacity up to 20 000 spectators. How many people died in the sand of the arena for the amusement of the visitors? Why was such a monster ever built?

The common answer is: in order to keep people happy with games. Personally, I would say more sharply: to manipulate people with games. Today you do it more effectively with TV channels.

Numerous other images of the city come to my mind. They run like a little movie in front of my eyes. Here the film:
---
("Firefox" can not play the movie )



But the memories of people are particularly important to me. People I met here, likeable people.

At the beginning I had a very special problem in the city. It may sound strange, but I found the people shy of contact. I come from a region where people are affable, as they say. Here I had the impression that everyone is looking at an imaginary point 5 meters in front of his feet when he did passe me. Nobody looked at me. Even when we both had a dog, the dogs greeted each other, but people looked away.

Later I found out that people are very friendly when I skip this separation wall and just talk to them. In some cases they were extremely warm and I can only remember one single case where I felt rejected as a foreign person by a parking lot guard, but his colleagues were embarrassed, as I could see.
---
Pula is a city that has room to breathe, space for its inhabitants.
---

I almost always spoke English and was understood by many. Especially the younger ones speak practically all English. Nevertheless, some have recognized the German somehow and answered me in German.                 

Pula is a city that has room to breathe, space for its inhabitants. It is not pushed to a mountainside, like Rijeka for example. Therefore, there is not only a small piece of coast, but many beaches are situated around the city. And it is not a mere tourist place, like Opatija. It is a living city. This mixture, of which I spoke critically in my first article "Arrival in Pula", I have come to appreciate.

People donated generously to street musicians, I noticed that. It also struck me that none of the donors stopped in front and listened for a while. They donate in passing. I think that's a pity for the street musicians, because they may appreciate a bit of recognition by attention.

The cultural scene of the city I discovered by accident. I'm not talking about the professional, commercially organized culture, but what the inhabitants of Pula are doing themselves.                 

On the day of my departure in Germany I decided to buy an alto flute. Now I was in Pula looking for a teacher to teach me the first handles. Because I had time. The tourist information did what they could. There were several phone calls in Croatian, of which I understood nothing. The end result was a note with a name on it and an indication of a flute concert on the same evening. There I should ask, I was told.

So I went to the Museum Gallery of the Sacred Heart to see where it is. I saw that it was the gallery that I had noticed days before with an interesting exhibition on the history of the region.

In the evening I went to the concert. Admission was free, they were not even asking for donations. Later, I found out that this is a compensation from the musicians for the city, which in turn supports their work. Played a trio called "NaSaSa".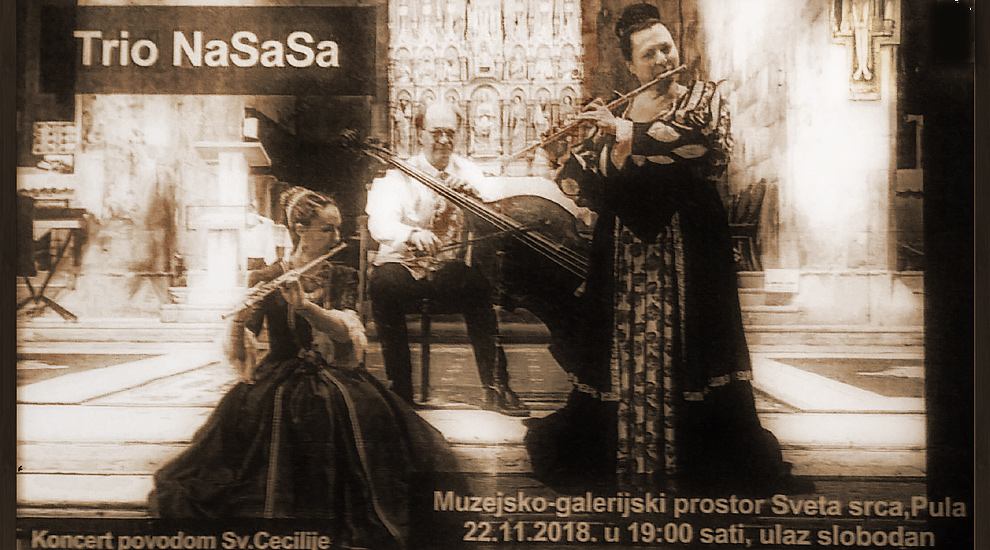 The abbreviation stands for Nataša, Sandro and Samanta, the members of the trio. They played internationally known pieces, but also the work of a probably Croatian composer, whom I do not know.

The concert was an interesting experience beyond the good musical performances.

The composition of the audience was unfamiliar. Of course there were the tourists from Germany, like me. And among the locals, many knew each other. Diagonally next to me, however, a couple sat and listened with interest, a couple which I could hardly imagine in a concert hall in Germany. The man wore rubber boots, as if he'd just come home from work. However, they were clean. With them he sometimes knocked the beat to the music. I say this with respect, because in Pula it seems possible to attract people who would not be interested in classical music in Germany .

One of the flutists, Nataša, became my teacher. After several futile attempts by her to find someone else, she herself had mercy with me. Despite language problems, she gave me a few hours.

So I came to the "Rojk". A huge old barracks with an equally huge parking lot in front of it, which has blossomed to new life through art and culture enthusiasts. As "You can only see right with your heart" (Antoine de Saint-Exupéry), I have transformed the building with the computer from a bad photography into what it really is: a Temple of the Muses in this city.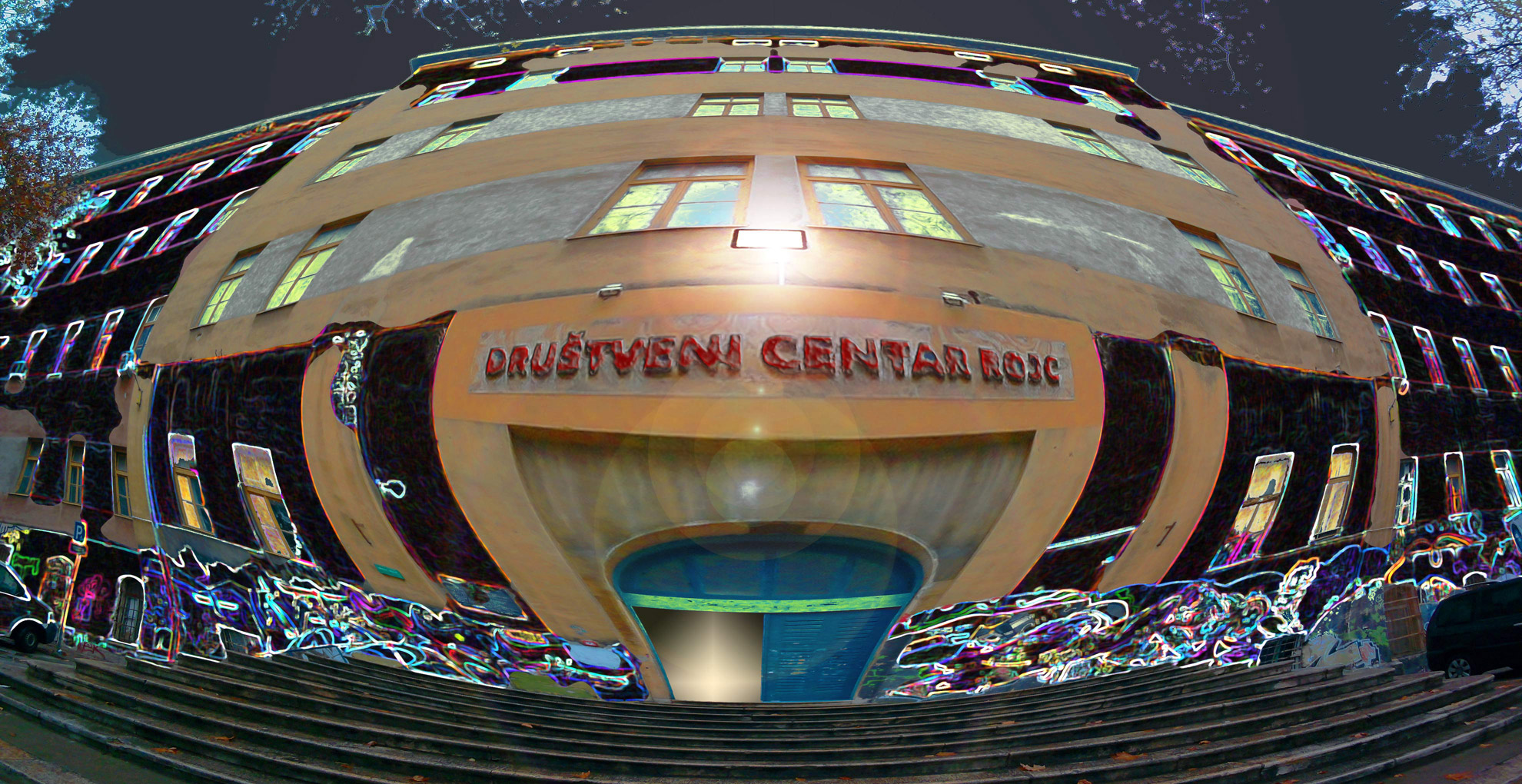 This Temple is undoubtedly more important to life in Pula than the Temple of Augustus. And in the practice room of the "Puhački Orkestar Grada Pule" my first flute sounds were heard. Until I can play there, it will take a long time ... but in the room ... .. was not there such a weird echo? Here the room: That was not my flute!

No farewell no return. After my breakfast at the quay I drove home. I took with me many good memories of Pula and its people.
Travel is fatal to prejudice, bigotry and narrow-mindedness


The quote from Mark Twain is engraved in a modern marble bench. Behind it is a large square with historical excavations in the middle, with a Museum of Olive Oil History on the left flank, and the Museum of New Art on the right. The background is a large, completely normal block of flats, which blocks the view on the harbor behind.
---
This informal togetherness of monuments of antiquity, history, art and contemporary life is the image of the city that I will keep in my mind.

Pula has broadened my horizons. P>
---
Related Posts